Some important updates as we draw closer to the first day of school!
Virtual Learning School
For families who have selected Voluntary Learn at Home this is an exciting time, as we launch this brand new school and prepare to offer new learning experiences for our students.
The first day of classes for our Remote Learning school is Monday, September 14th. We are busy now working with our staff to organize classes and communication protocols to all families for the new school. You can expect an email early next week that will share a link to our new school website and offer additional information, to support the start of the new school year for you and your family.
Thank you for your patience during this time. Please know that we are busy preparing for the first day of school and look forward to welcoming our students.
Online Learning at Home vs. In-person Classroom Learning
Parents and guardians have made their decisions regarding whether to enrol their children in online learning at home in St. Clair Catholic's new Virtual School; or in-person classroom learning at school, with enhanced health and safety measures in place.
At St. Clair Catholic, the overwhelming majority of students will return to in-person classroom learning. At the elementary level, 12% of students are enroled in online learning; and at the secondary level, 13% of students will participate in online learning at home.
Class Size Averages for 2020-2021
The Ministry of Education sets class size averages for all school boards across the province. During COVID-19, our priority has been the health and safety of all staff and students. Through some additional funding provided by the Ministry of Education, utilization of Board reserve funds, careful planning and the hiring of additional staff, our Board has been able to reduce our average class sizes in our elementary and secondary schools.
The chart below outlines the class size averages set out by the Ministry of Education and our current average class sizes for 2020-2021 across the St. Clair district, as of August 28, 2020.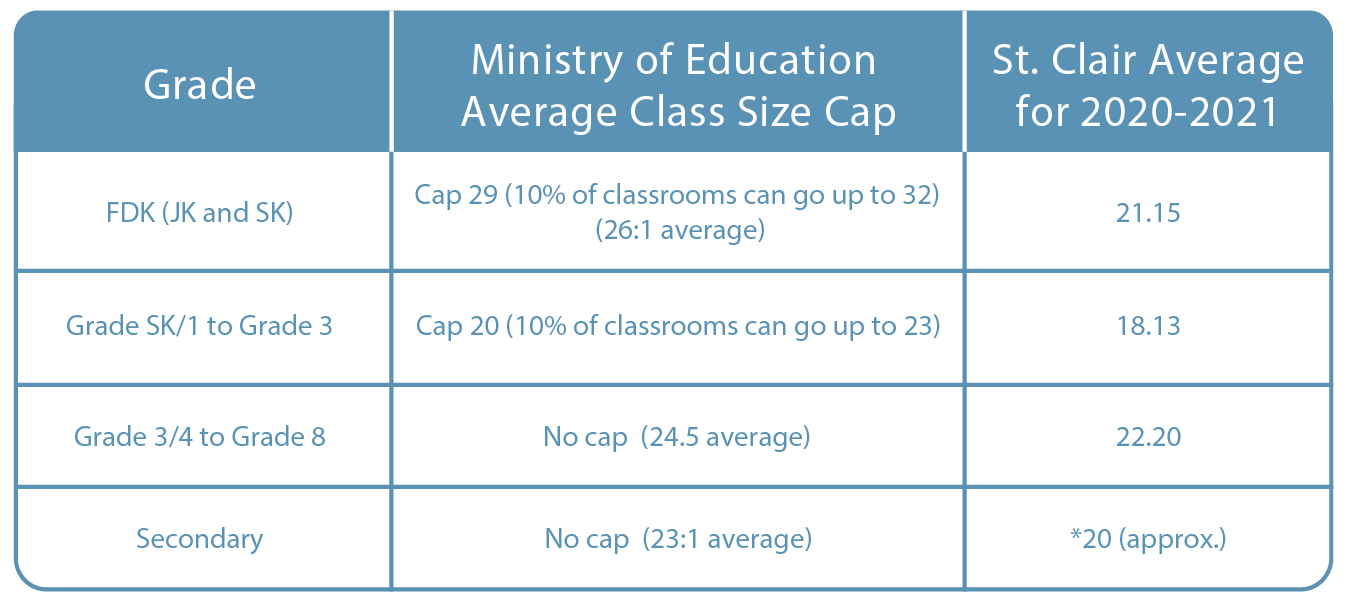 Masks for Students in Our Schools
The Ministry of Education has mandated that all students from Grades 4 to 12 must wear a cloth mask, unless they are exempted. We also strongly encourage students in JK to Grade 3 to wear masks, if possible. Wearing masks at these ages helps to build important skills in the safe use of masks and will increase the comfort level for our youngest students both at school and in the community.
For more information, please read an important resource about masks in our schools.
Return to School Plan Video
St. Clair Catholic has produced a short video for parents/guardians and students. It's a preview of what schools and classrooms will look like and an introduction to some of the enhanced health and safety measures that will be in place to help keep everyone safe.
Managing COVID-19 in Our Schools with Our Public Health Partners
Daily self-assessments are required for all students and staff before coming to school or work. Our public health partners have created a simple one page daily screening questionnaire for parents/guardians and students. Read it here.
A link to the full Ontario Self Assessment document.
For more information about COVID-19 symptoms, please refer to the Government of Ontario document.
Chatham-Kent and Lambton Public Health continue to work closely with St. Clair Catholic to support the reopening of our schools. The primary goal is to make the return to school as safe as possible, balancing the risk of COVID-19 transmission, while reducing other harms to the wellbeing of students, families and staff. For more information, visit the public health websites at:
With the support of our public health partners, we are confident in our #SeptemberReady Return to School Plan, and the additional health and safety measures that are in place. Throughout all of our planning, the health and safety of our students and staff has been our first priority.
We look forward to welcoming our students, to both in-person classroom learning and to our new Virtual Learning school in the days ahead!
Deb Crawford
Director of Education