In celebration of Kindness Week, which ran in St. Clair Catholic schools from November 21st through 27th, two contests were held for students and staff.  Please see below the winning submissions!
1. Kindness and Wellbeing Classroom Contest
All classrooms were invited to participate in a classroom contest. Students were encouraged to create a poem, video, or story with their class on the link between kindness, faith, and wellbeing. The winners were judged based on creativity, messaging of kindness, wellbeing, and faith. After much deliberation, we would like to congratulate the following winners:
Mrs. Breault's Grade SK/1 Class – St. Anne Blenheim 
This video submission from this class showcased all the kind things happening at their school and within their classroom.  They also included some wonderful artwork that they shared to help spread kindness to others.  Their video also explored what kindness means to them and how it makes them feel.  They also reflected on when they feel Jesus' kindness. Video Link
Mrs. Philipsen's and Ms. Mina's Kindergarten Class – St. Anne Sarnia
This video submission from this class, entitled "Rainbowland", showcased artwork according to different colours of the rainbow.  Each colour reflected a different aspect of kindness.  Their message encourages others to "be the rainbow in someone else's cloud".  Rainbow art was created and shared around their school! Video Link
Ms. Couture's and Mme. Saya's Grade 3 French Immersion Class – Christ The King
The students in this class first came up with an example of kindness, wellbeing, and faith, and then were split into groups to create an artistic background.  The background was used for the green screen for students to do a tableau.  They described their scenes and gave their perspectives as to how kindness, wellbeing, and faith are all connected. Slides Link
Mrs. Pisquem and Mrs. Mitchell's Kindergarten Class – St. Elizabeth School
The students created a music video that focused on the message of "Being kind and compassionate to one another, forgiving each other just as in Christ God forgave you" – Ephesians 4:32.  In the video, students shared what kindness looks like to them.  They concluded their video with another scripture verse from Matthew 7:12, "So in everything, do unto others what you would have them do to you". Video Link
Mrs. Campagna-Rizzo's Grade 1/2 Class – St. Joseph Corunna
The submission from this class focused on the message of "Be WELL! Show KINDNESS!  Have FAITH!".  The students walked through their ideas of how wellbeing is connected to faith and kindness, and how each of these contributes to positive wellbeing. Video Link
Mrs. Meredith – St. Philip
Shared a Kindness Wall that was created during Kindness Week at her school.  The staff were involved in donating gifts for the child version of their Secret Santa.  They added a letter from Santa with a kind message and these were attached to the showcase wall as well!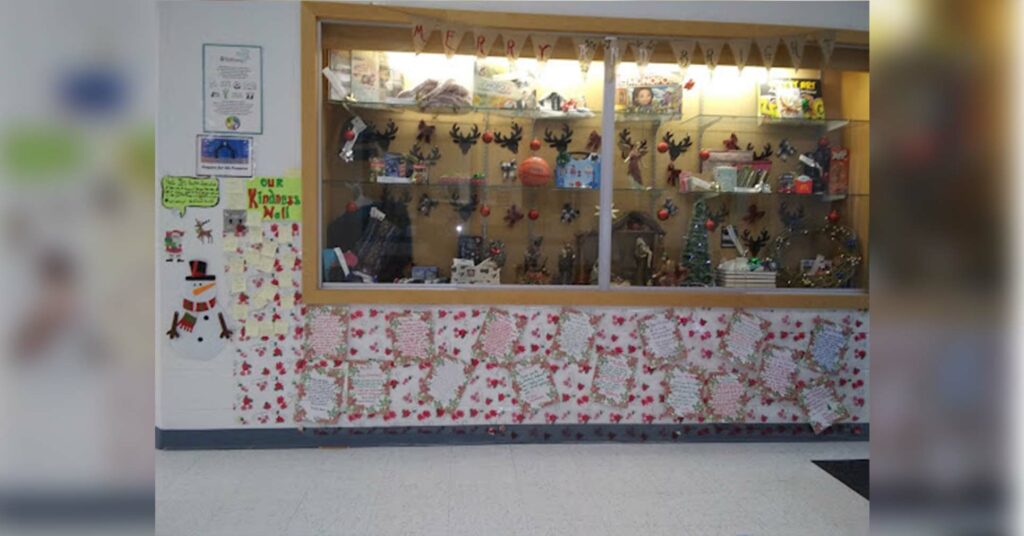 2. Staff Take Good Care Scavenger Hunt
SCCDSB staff were invited to participate in a scavenger hunt meant to bolster and promote self-care and practice being kind to oneself.  This hunt revolved around the Take Good Care Website and encouraged all staff to visit the website to learn more about where to find and access certain mental health and wellbeing tips and resources that the Board and community offers.  All submissions were put into a draw and five winning names were pulled to win a gift card to a food vendor of their choice.  Congratulations to the following winners:
Jennifer Drew
Mina Morgan
Carolyn Stepniak
Madeleine Dubois
Louise Kosik
A big thanks to everyone – staff and students – who participated in Kindness Week 2021! We hope that you continue to practice kindness each and every day.