Earlier this year, Dow's St. Clair River site launched a program with Noelle's Gift to Children to support equity in local schools.
Through this project, Noelle's Gift to Children is building closets in Lambton County and Chatham- Kent schools. Dow funding will support the construction of the closets and fill them with essential items like food, clothing, toiletries, sanitary products and other necessities that can be accessed discreetly by students in need. As well, Dow volunteers will be helping to assemble, deliver and stock the closets.
"This year, Dow is celebrating 125 years and we have a strong legacy of charitable investment in our region. Dow's former Sarnia site was the Company's first international location outside of the U.S., and now that we have a site in Corunna we will continue to invest in this community," said Amy Cunningham, Training Coordinator and Dow sponsor for the project. "We're excited to be working with Noelle's Gift to Children to ensure our local students have the resources they need to succeed."
The project was funded as part of Dow's ALL IN ERG Fund, which allows the Company's employee resource groups to apply for funding for non-profits who are addressing inclusion, diversity and equity needs in communities where Dow operates. Since the Fund was established in 2019, it has supported 37 projects in 20 countries worldwide.
"We are truly thrilled that Dow is supporting our new project," said Michele Stokley, committee member. "Our goal is to build a closet for each school, with the wonderful help from The Carpenters Union Local 1256. We will be filling the closets with outerwear and essentials. This will ensure instant access for any child in need."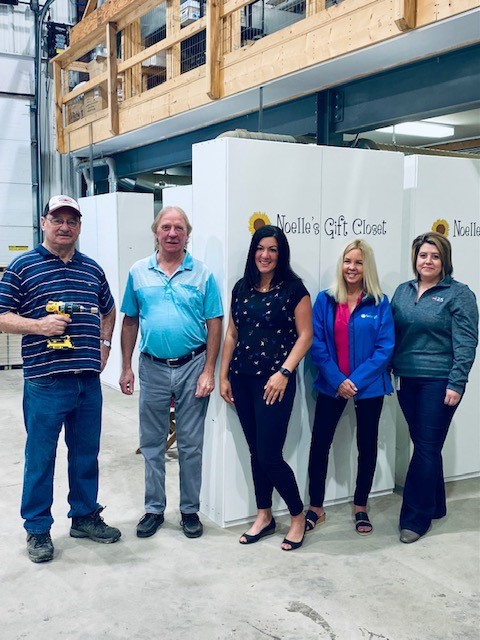 About Noelle's Gift to Children
Noelle's Gift was established in January 2013, in honour of a beautiful, dedicated caring volunteer and school teacher named Noelle Paquette. She recognized that there are many marginalized students who are victims of circumstances beyond their control and require assistance. Noelle was always aware of others in need and she believed every child deserves an equal opportunity to becoming a "Smash Hit" as she would often say to her students.
About Dow
(NYSE: DOW) combines global breadth; asset integration and scale; focused innovation and materials science expertise; leading business positions; and environmental, social and governance (ESG) leadership to achieve profitable growth and deliver a sustainable future. The Company's ambition is to become the most innovative, customer centric, inclusive and sustainable materials science company in the world. Dow's portfolio of plastics, industrial intermediates, coatings and
silicones businesses delivers a broad range of differentiated, science-based products and solutions for its customers in high-growth market segments, such as packaging, infrastructure, mobility and consumer applications. Dow operates 104 manufacturing sites in 31 countries and employs approximately 35,700 people. Dow delivered sales of approximately $55 billion in 2021. References to Dow or the Company mean Dow Inc. and its subsidiaries. For more information, please visit www.dow.com or follow @DowNewsroom on Twitter.