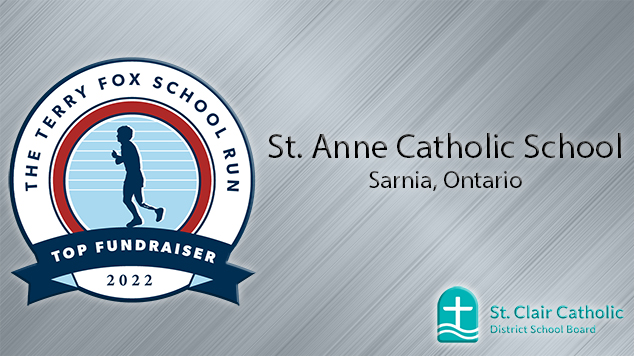 St. Anne Catholic School in Sarnia is once again among the top schools for fundraising in the annual Terry Fox Run.
"When Terry set out, 43 years ago, he could have never imagined that his torch would have been carried by so many future generations," says Nishi Bansal, Ambassador Program Manager for the Terry Fox Foundation, in a letter to the school community. "We are so grateful to you for making sure that the flame stays lit and Terry's passion to help those with cancer continues. We can't thank you enough for your continued support and we look forward to working with you in 2023!"
The Terry Fox Foundation forwarded to the school a digital Top Fundraiser badge, to help share the good news of this tremendous accomplishment by students and staff.
"May it serve as a reminder of the unwavering commitment and passion your school has demonstrated in the fight against cancer," says Ms. Bansal.
"A special thank you goes to Lori Barbato, who organizes our successful run each year to support the great work of the Terry Fox organization," says Stephanie Orrange, Principal of St. Anne Catholic School.